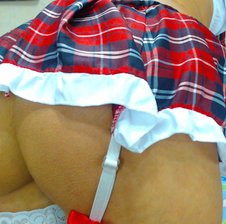 SexyIrinkaa
Stiftmodell
Lossa upp modellen
Denna modell är
Online
Offline
54, Tvillingarna
Senaste inloggning:
2023-01-30 22.58.56
Viktig information om
SexyIrinkaa
| | |
| --- | --- |
| Kön | Kvinna |
| Sexuell preferens | Hetero |
| Ålder | 54 |
| Längd | 5' - 5'3" [150cm - 160cm] |
| Vikt | 100 - 120 lbs [45 - 55 kg] |
| Hår | Blond |
| Ögon | Blå |
| Etnicitet | Vit/Kaukasisk |
| Språk | Ryska, Engelska |
| Könshår | Hårig |
| Byst | Medium |
| Rumpa | Medium |
Visit my very erotic and lustful world where all of Your fantasies will come true. I want You to indulge me, explore my body!
Interesnaya, dobrojelatelnaya. Vse dlya vas v private. Welcome.
Im always in the mood for everything, be nice and act like a gentleman, don t be rude!
Arbetstider för SexyIrinkaa
Welcome to my erotic and lustful world! 🎀
You will truly enjoy the time we have together.
Your enjoyment and comfort are my number one concern.
You will find that I am articulate, well educated, personable and an excellent conversationalist. I love to laugh and I am very limber for my age.
I am always interested in meeting new people.
I find people fasinating and enjoy whatever knowledge I am able to gain from them.
As far as hobbies are concerned, I enjoy refinishing antique furniture (or any wood working for that matter), cooking, reading, and watching movies but most of all, I really enjoy watching stand up comedy.
With me Your fantasies will come true!
 I want You to indulge me, explore my body!
Dream date!
Rent a bicycle for two and go to a park
Instead of any old biking excursion, rent a tandem bicycle for a chance to get in sync, practice teamwork, and yes, get some exercise in too.